Novak Djokovic's father has been filmed posing for photos alongside pro-Russian protesters following the Serbian tennis star's Australian Open quarter-final on Wednesday evening.
In footage uploaded to a pro-Russian Australian YouTube account on Thursday, Srdjan Djokovic is seen standing alongside a man who is holding a Russian flag with President Vladimir Putin's face and wearing the pro-war "Z" symbol associated with support of the Ukraine invasion .
Watch Tennis Live with beIN SPORTS on Kayo. Live Coverage of ATP + WTA Tour Tournaments including Every Finals Match. New to Kayo? Start your free trial now >
In the footage, Srdjan Djokovic was warmly greeted by the group of pro-Russian protesters – four of whom were earlier expelled from Melbourne Park by the police after reportedly threatening security.
Before departing, Djokovic Sr appears to say "zivejli Russiyani". Živeli means 'cheers' in Serbian and is derived from an expression wishing 'long life', with Russiyani referring to the Russian people. Reports therefore translated the full phrase to mean "long live the Russians".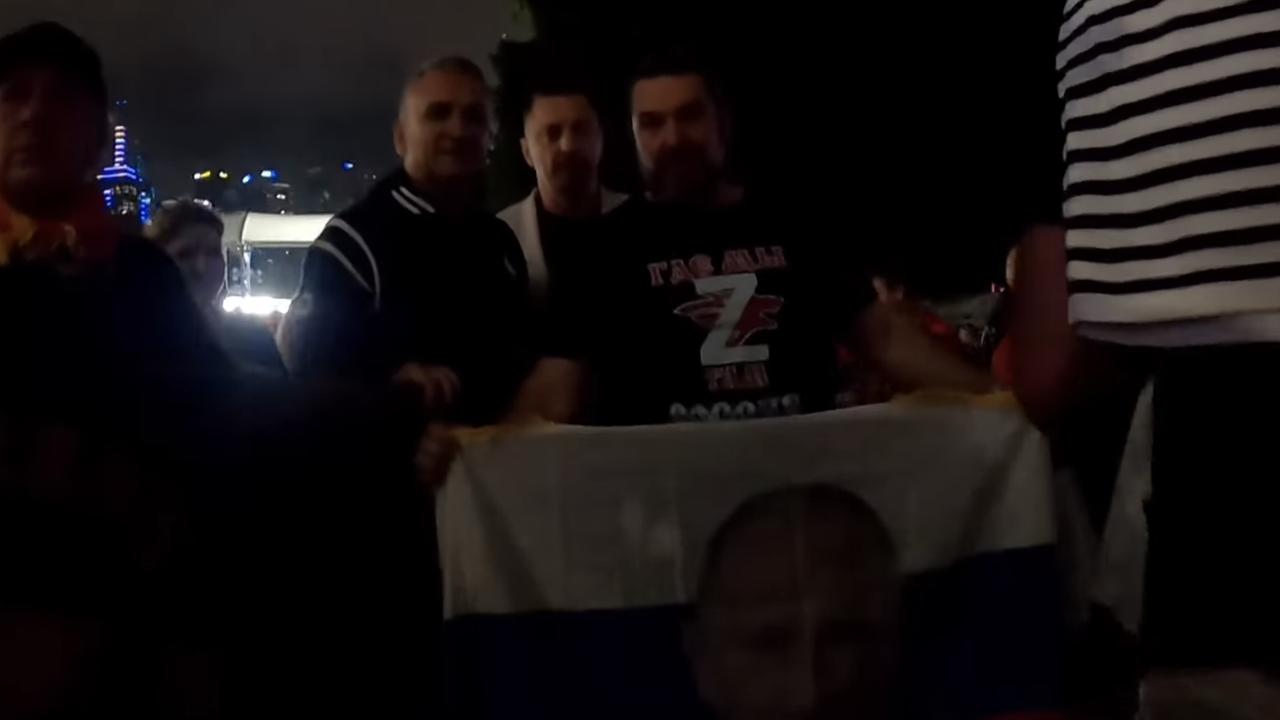 Simeon Boiko, whose YouTube channel posted the footage, on Wednesday night called for Russian fans to 'strike back' at Tennis Australia for banning Russian flags and pro-war symbols.
"Today Djokovic plays Andrey Rublev. I hereby appeal or instruct everyone to get down there. I can confirm that we've got some surprises," Boikov said.
"Tennis Australia brace yourselves… for fans, for people who love tennis, if you know what I mean. I've got to say it that way or they'll get me for incitement. We've got a lot of serious fans in Melbourne heading down."
He added: "This is about honor and dignity now. This is an attack on honor and dignity. This has got nothing to do with the war. This is an attack on freedom in Australia. This is discrimination. This is racism. It's illegal to ban people's flags.
"The Russian empire has had its flag banned. Well guess what Tennis Australia? Good luck when the empire strikes back."
During Djokovic's victory over Russian opponent Andrey Rublev at Rod Laver Arena, a patron in the stands was spotted taking off one shirt to reveal another with the prohibited "Z" symbol.
The man was seen covering his shirt with a jacket after being spoken to by an Australian Open official – but was not expelled from the Arena – before Novak Djokovic unwittingly signed another shirt held out by the fan following the straight sets 6-1, 6- 2, 6-4 victory.
Former Ukrainian star Alexander Dolgopolov – who has returned to Ukraine to fight in the conflict – called for a life ban for the fan.
After the match, a group of patrons were seen waving banned Russian flags and chanting "Serbia, Russia" near the stadium. Other chants included references to Validimir Putin and Ukrainian regions targeted by the Russian invasion.
Tennis Australia confirmed four spectators had been spoken to by the police following the incident.
"Four people in the crowd leaving the stadium revealed inappropriate flags and symbols and threatened security guards," an Australian Open statement read.
"Victoria Police intervened and are continuing to question them. The comfort and safety of everyone is our priority and we work closely with security and authorities."
A Victoria Police statement confirmed: "Police spoke to four men after a Russian flag was produced on the steps at the tennis court about 10.20pm on Wednesday 25 January. All four men were evicted."
Following Russia's invasion of Ukraine last year, Russian and Belarusian athletes were banned from taking part in several global sporting events, including Wimbledon.
Russian and Belarusian players have been allowed to compete in this year's Australian Open as independent neutrals, forbidden from representing their countries.
Last week, the Australian Open banned spectators from carrying Russian flagsdonning Putin's Z symbol or chanting pro-Russian songs.
Russia's embassy condemned at Tennis Australia's flag ban, calling it "another example of unacceptable politicization of sports".
.